Ethereum and the entire crypto market have shown some signs of strength today
This has allowed ETH to push up towards $500, with the cryptocurrency rallying to highs of $475 before seeing some stalling momentum
Analysts don't believe that this ongoing upsurge is anywhere close to being completed
One trader noted that his bearish scenario for ETH has now been invalidated, suggesting that further upside could be imminent
Another trader is now setting his sights on a movement towards $650 in the near-term
Ethereum has been one of the best performing major digital assets throughout the past several days and weeks, with the bulk of its recent gains coming about over the past few days.
Just last week bears sent ETH reeling down to lows of $370 before it was able to find some support and start rebounding.
14 BTC & 95,000 Free Spins for every player, only in mBitcasino's Exotic Crypto Paradise! Play Now!
This slight rebound eventually turned into a full-fledge bull trend, as the cryptocurrency has since rocketed significantly past its previous 2020 high of $440, setting a fresh one at $475.
It also appears that this movement invalidated the bear case that was previously plaguing the crypto.
As such, one analyst now believes that a movement all the way up towards $650 is imminent in the near-term.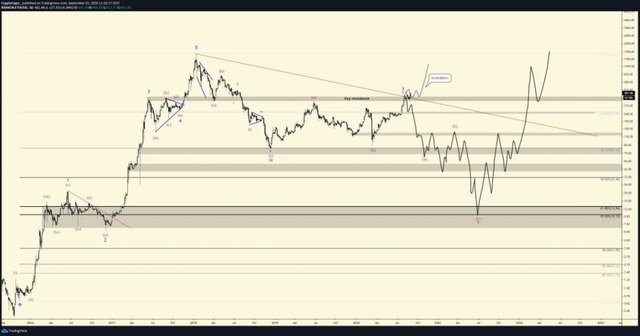 Image Courtesy of il Capo of Crypto.
Source: www.bitcoinist.com