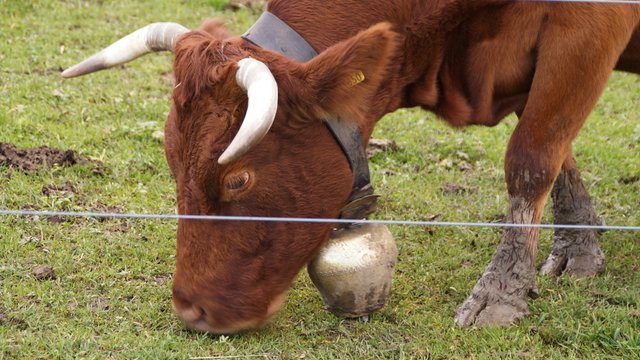 My Actifit Blog #779 | 29 October 2020 |
During my walk today I noticed that one of the many Dexter cows in my area wears a bell around its neck. This is absolutely unusual on normal pastures near Munich.
The pasture here is also relatively small. Usually we find these cowbells in the mountains where the farmer can hear from far away where his cows are on the often huge pastures. The bells are also used for the orientation of the other cows, therefore they are usually being carried by the "leading cow"!
It looks very nice, this cow with the bell, so I just had to take a picture of it.

Bei meinem Spaziergang ist mir heute aufgefallen, dass eine der vielen Dexter Kühe in meiner Gegend eine Glocke um den Hals trägt. Dies ist absolut unüblich auf normalen Weiden in der Nähe von München.
Die Weide hier ist auch relativ klein. Normalerweise finden wir diese Kuhglocken im Gebirge, wo der Bauer schon von weitem hört, wo sich seine Kühe auf den oft riesigen Weiden befinden. Die Glocken dienen auch zur Orientierung der anderen Kühe, deshalb werden sie auch meist von der "Leitkuh" getragen!
Hübsch sieht es ja aus, diese Kuh mit der Glocke, deshalb musste ich einfach ein Photo davon machen.

Stats for Today
Walking: 3 km
Current Total 2020:

2 165 km
Activity Count: 6 286 steps

(counted by my Fitbit device synced with actifit fitness tracker)
Activity Type:
Walking, Daily Activities
Current Actifit User Rank: 65 (+17.00)*
*Holding 170.00 AFITX tokens
Rewarded Activity Reports: Level 9/10
Checkout all original rewarded Reports on actifit.io UI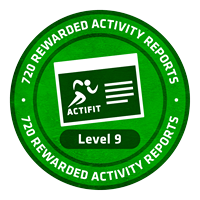 Next and last Badge: Level 10 needs to have 1080 Rewarded Activity Reports!

How to start your actifit/HIVE account:
• Signup for a HIVE-account here or here
• Download the app for Android or IOS
• Join Actifit's community on Discord for discussions and help
• Follow @actifit for daily News and Statistics
• Read the Official White Paper for further information on the project!
• Please vote for @actifit as witness!! The team is doing an excellent job!
• Make at least 5K steps daily and get upvotes from @actifit!
• Now you are ready to go to the Moon!
• Distance to the Moon is avg. 385K km! Enjoy your lifelong travel! 😄

This is my actifit posting account! I'm trying to enhance my health and fitness mainly by running, walking and cycling.
Please support and follow my progress! Thanks so much!
In addition your steps can earn Sweat-Coins!
Please use the following link to download the App (IOS or Android):
Sweat-Coins
Life is Motion! Live an active Lifestyle to stay healthy and fit!




Photos © by actifit-peter
Who-Am-I ?