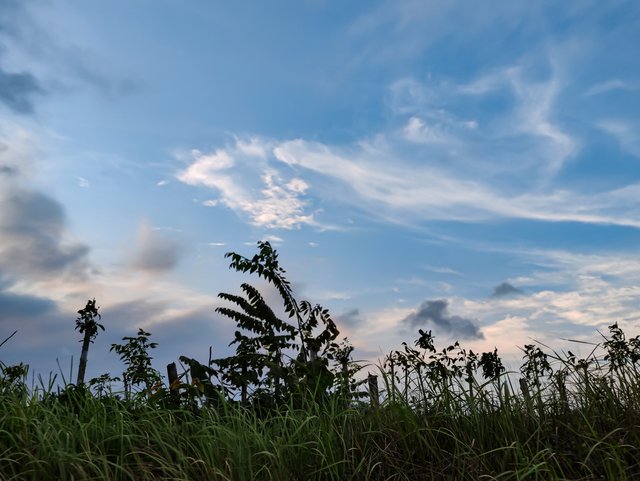 Here is my story in last Sunday. That morning, I contacted a friend with the intention of asking him to go hunting photography in the village of Cot Girek. He also accepted my invitation, and we agreed to leave in the afternoon.
At 16.30, we met at the intersection of Jl. Tengku Ahmad Kandang, Kandang Village. Then by driving our respective motorbikes, we headed to a location that was only about 2 km away or took about 5 minutes.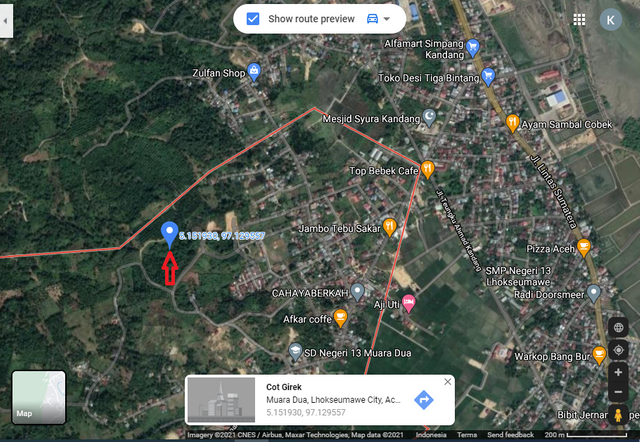 Here are where we hunting photography (see red arrow), Google Maps
Well, not long after we arrived at the location, a hill that was not too steep, but from the top of the hill, you could see from afar the view of Lhokseumawe city.
Before taking action with my respective cameras, I first lit a clove cigarette, then each looked for objects that could be captured using the camera.
What do I find there? You can see it below.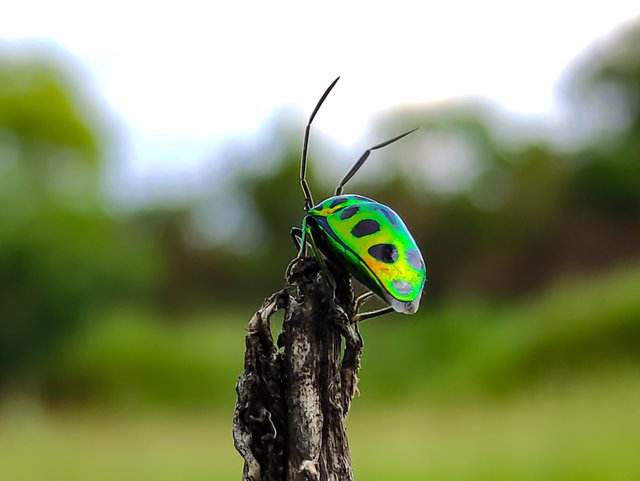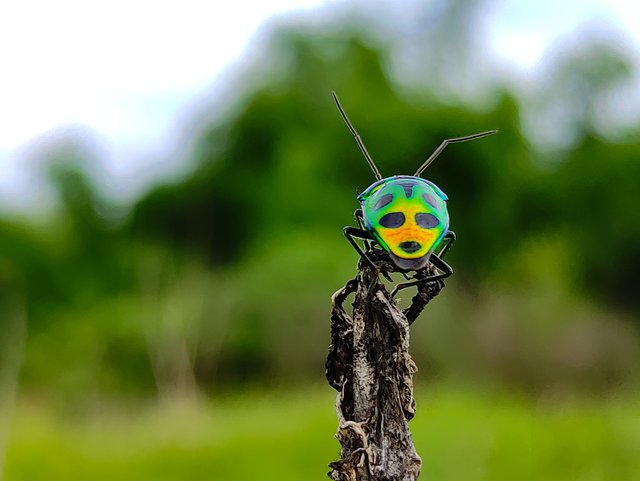 Chrysocoris stollii, a species of jewel bugs belonging to the Scutelleridae family. It was as if he was observing something from the top of a lighthouse (dry twig)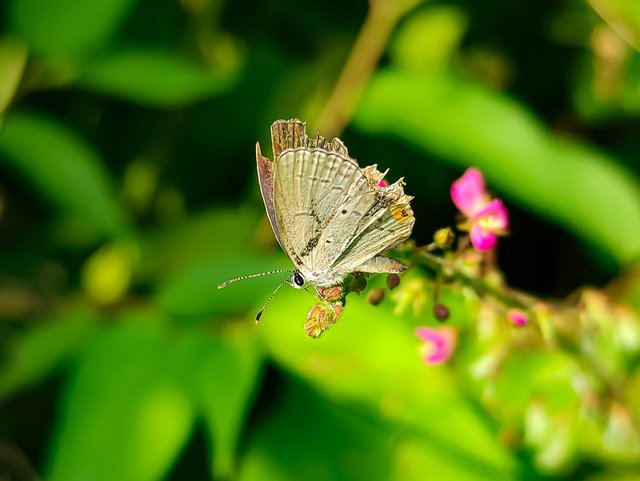 The cycad blue (Luthrodes pandava) perched sweetly on a weed flower. Its wings were bit messy, maybe it just managed to escape from the predator's attack.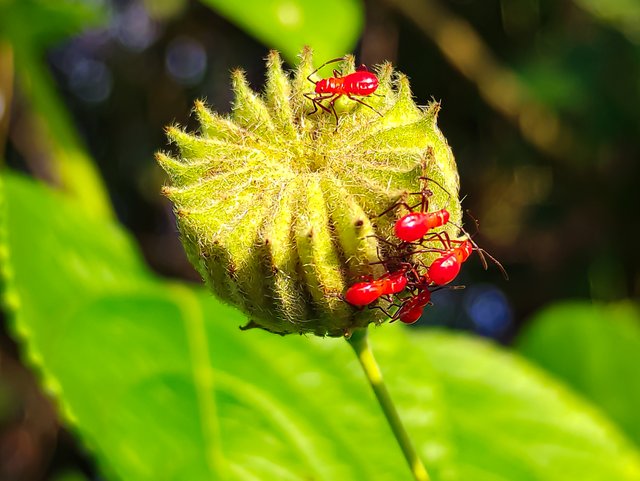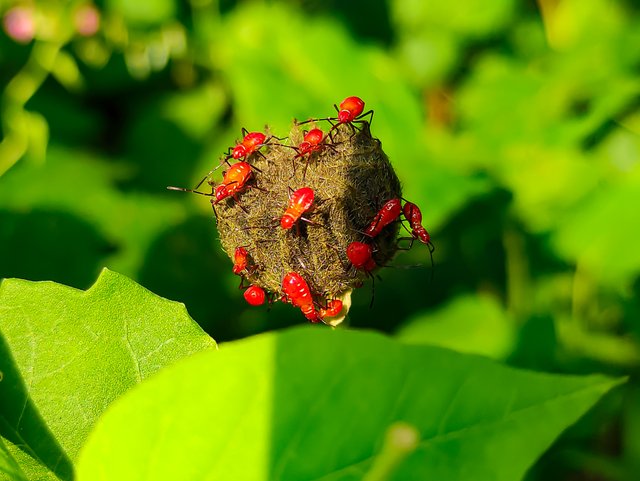 Young red cotton stainers (Dysdercus koenigii) clustered in velvet plants (Abutilon theophrasti).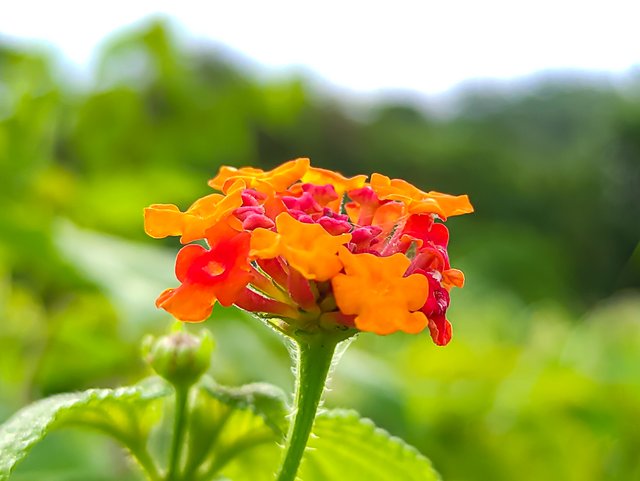 Sumatran lantana flowers (Lantana camara) are blooming beautifully. Really refreshing to the eye for anyone who saw it.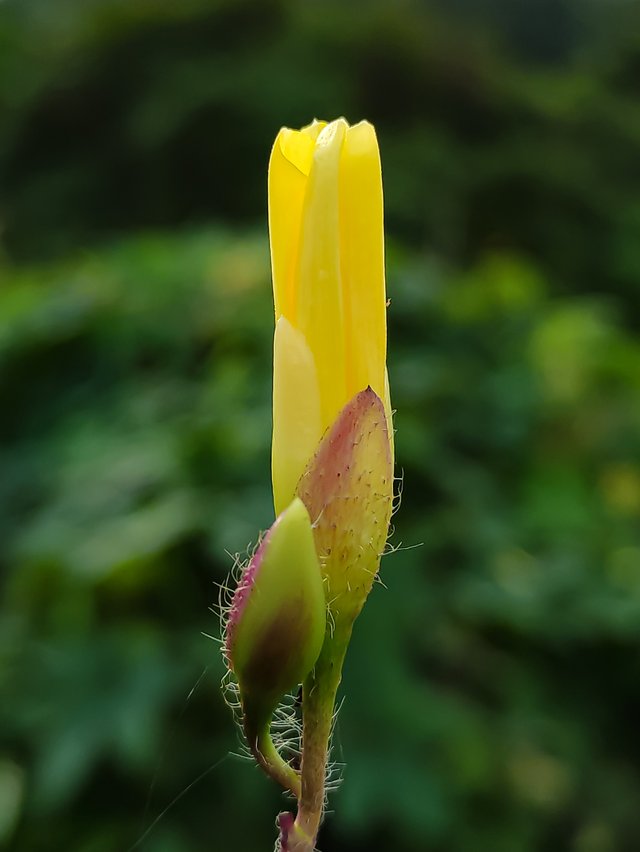 This flower, I don't know its common name. I'll just call it a pretty wildflower. It's like a wine glass poured with banana liquor.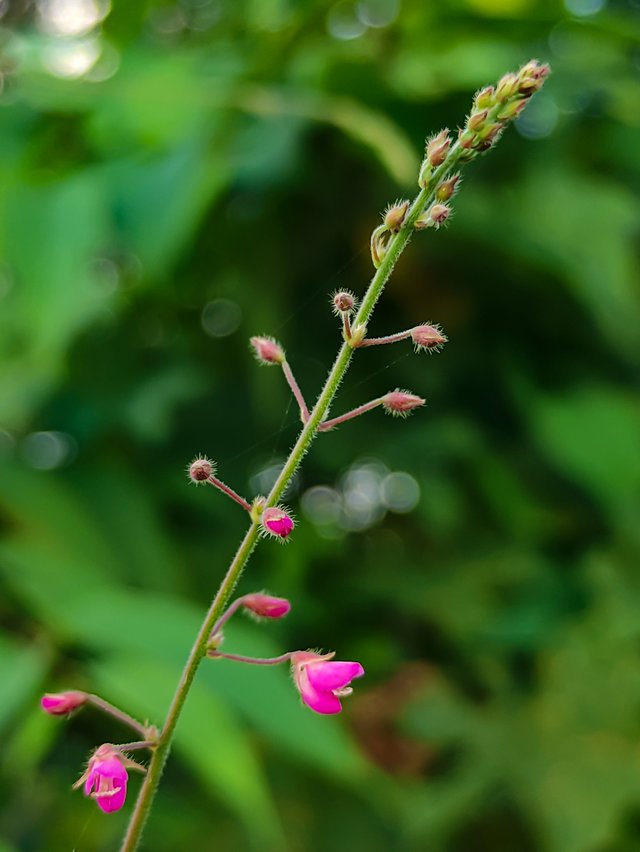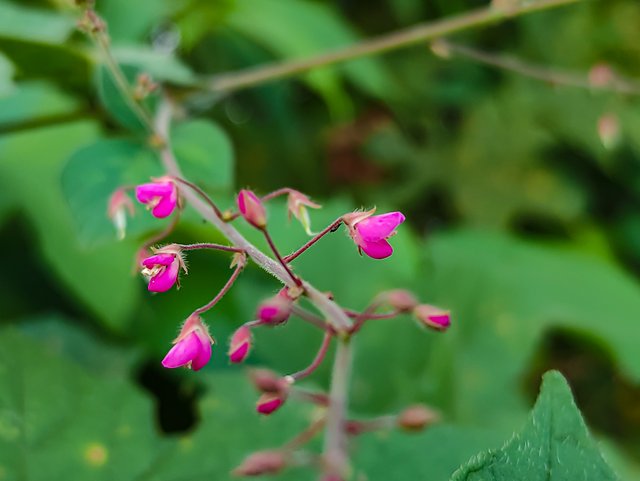 This flower, I'm not sure, but it looks like the Lespedeza belonging to the pea family (Fabaceae).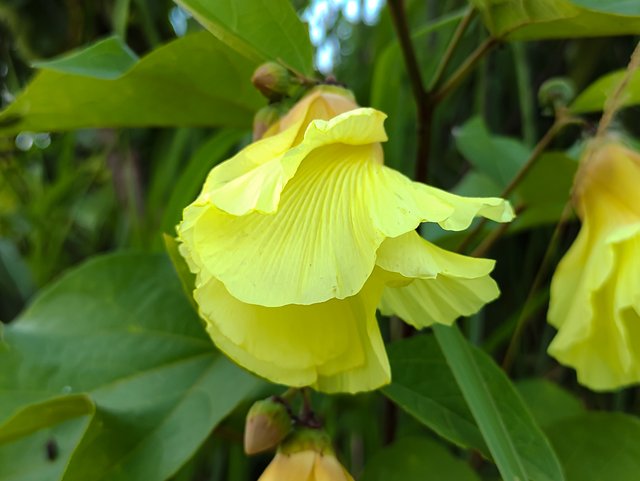 The Portia flower (Thespesia populnea) belongs to the Malvaceae family. In the local native, it is called Bungong Bak Siren.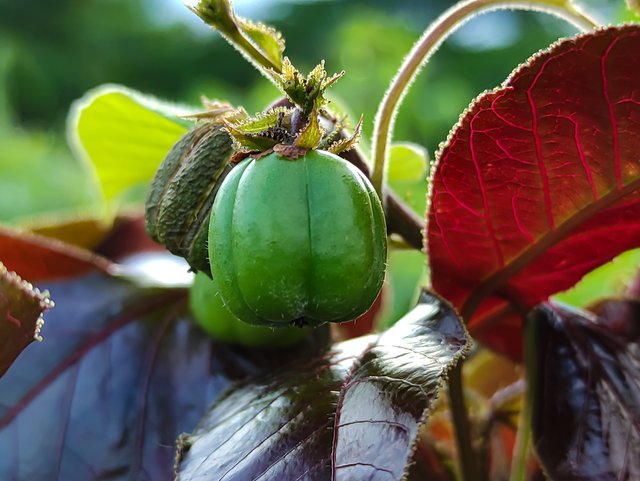 Bellyache bush fruit (Jatropha gossypiifolia), this plant grows a lot in this area.

Some landscape capture, from here the Lhokseumawe city can be seen from afar.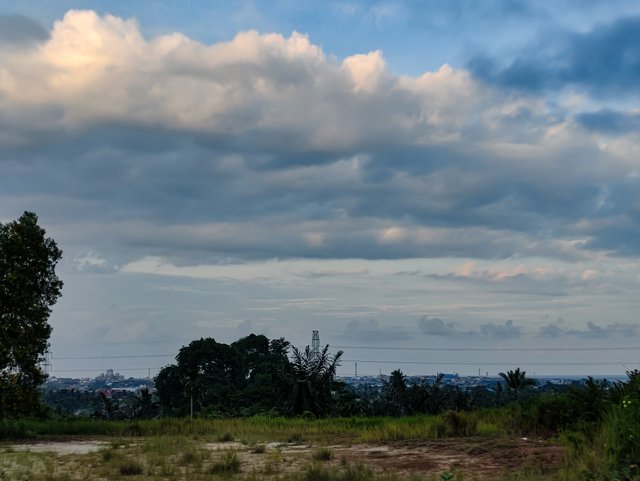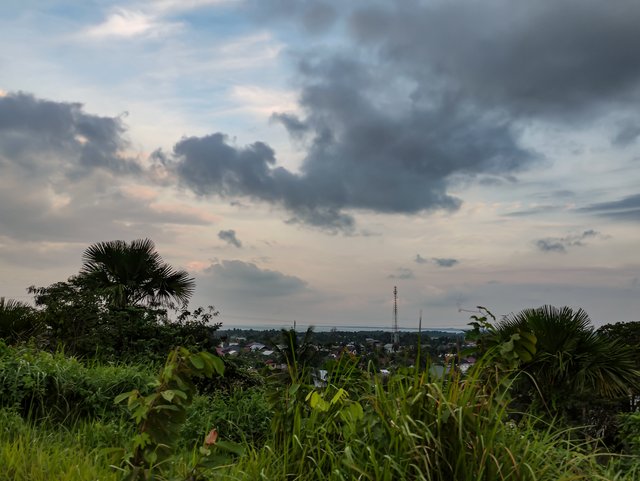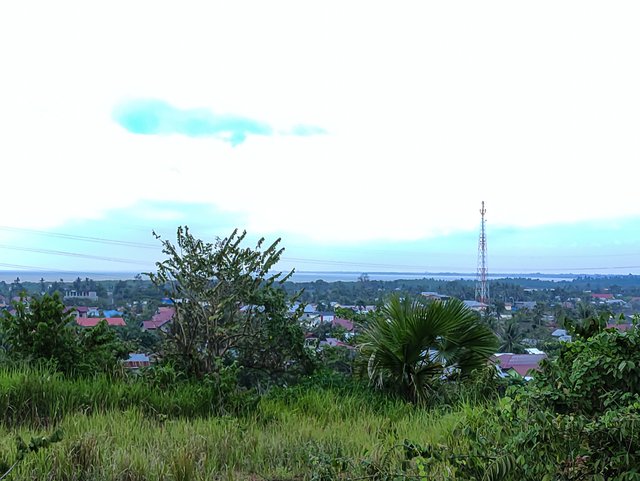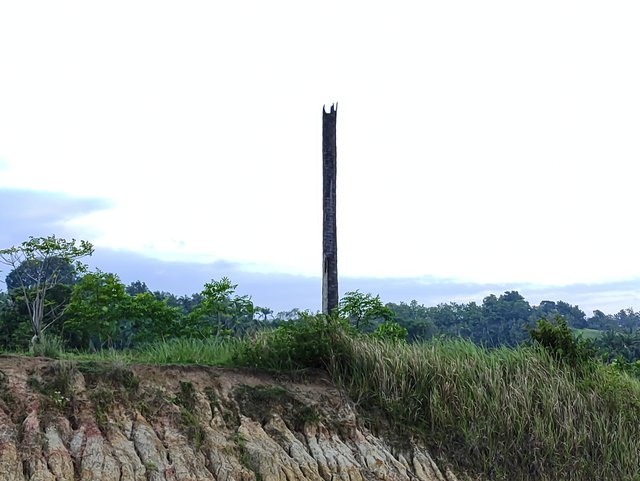 | Camera | Xiaomi Poco X3 NFC + Macro Lens |
| --- | --- |
| Category | Animal Photography |
| Processed | Adobe Lightroom |
| Location | Lhokseumawe, Aceh, Indonesia |
| - | - |
Thank you for stopping by