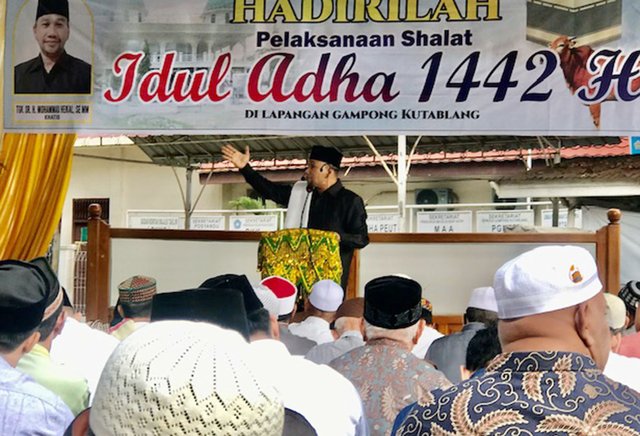 ---
Three lecturers of the Faculty of Economics and Business, Universitas Malikussaleh, became preachers for the Eid al-Adha prayer 1442 H on July 20, 2021. The three invited Muslims to imitate the sincerity of Prophet Ibrahim's sacrifice and Prophet Ismail's obedience to parents which is one of the inspirational stories in the Qur'an.
The three lecturers of the Faculty of Economics and Business who became preachers were Ustaz Nazli Hasan Lc at the Jamik Mosque, Ustaz H Dr Mohd Heikal in Kutablang, and Dr Damanhur Abbas at the Taqwa Muhammadiyah Mosque in Lhokseumawe.
Being a preacher in the field in front of the Baitul Huda Mosque, Kutablang, Ustaz Heikal reminded that the story of the sacrifices of Prophet Ibrahim and Prophet Ismail is often repeated every Eid al-Adha in order to be a iktibar (read: nonsuch) for all people, especially in the midst of the current difficult situation that demands people's concern for people who are in trouble.
Ustaz Heikal reminded us that sacrificial animals are not only vehicles in the way of Allah, but also as a form of our social care for others which is currently very much needed. "The philosophy is that what is slaughtered is not the neck of the animal, but the animal nature of us," he said.
Regarding Prophet Ismail's obedience to his father Prophet Ibrahim, Heikal mentioned it as a form of obedience that must be an example for all because even though he left his family for a long time in the barren desert, Prophet Ismail remained obedient to his father in carrying out Allah's commands.
Ustaz Heikal also touched on gender issues in the history of Prophet Ibrahim who has not had children after 86 years of marriage with Siti Sarah. Then Siti Sarah approved the marriage of Prophet Ibrahim with Siti Hajar.
"But when Prophet Ibrahim had a child from Siti Hajar, Siti Sarah started to get jealous. That's how women, jealousy is normal and natural. Even if there are women who are not jealous at all, it is questionable," said Heikal.
Regarding the pilgrimage, which has been unable to take place for two years due to the Covid-19 pandemic, Heikal reminded the story of Ibn Mubarak who had a dream in the Grand Mosque about the conversation of two angels. In that conversation, it was stated that out of about 700 thousand pilgrims, none of them were accepted for their worship.
However, because of the worship of a shoemaker, Al-Muwafaq, who was unable to go for Hajj, the entire pilgrimage was accepted by Allah. Ibn Mubarak then met Al-Muwafaq and knew the sincerity of the shoe soler who was willing to not go on the pilgrimage because he helped the poor.
The issue of children's obedience to their parents was also reminded by Ustaz Damanhur Abbas when he was a preacher at the Eid al-Adha prayer in the courtyard of the Taqwa Muhammadiyah Mosque in Lhokseumawe. According to Damanhur, the story of Prophet Ismail's obedience to Prophet Ibrahim's father should be an example for mankind. "Do good to our parents, even though they are gone," said the lecturer in Islamic Economics.
At the Jamik Mosque, Ustaz Nazli Hasan Lc reminded the congregation not to grieve when faced with God's trials in any form. "If you are given a blessing, be grateful If you are given a trial, be patient," said Ustaz Nazli.
He invited the congregation to imitate the family of Prophet Ibrahim who was very trusting in Allah in severe trials throughout his life journey. "In the Qur'an, there are only two prophets that Allah said to be role models and Allah attached to the Prophet Muhammad in Salawat, namely Prophet Ibrahim and Prophet Muhammad," said Ustaz Nazli.
---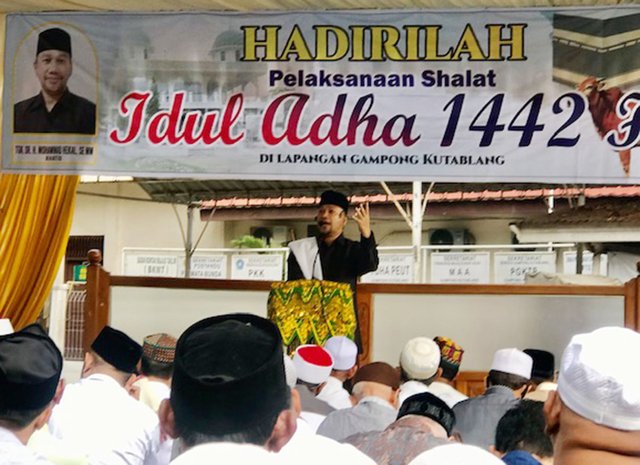 ---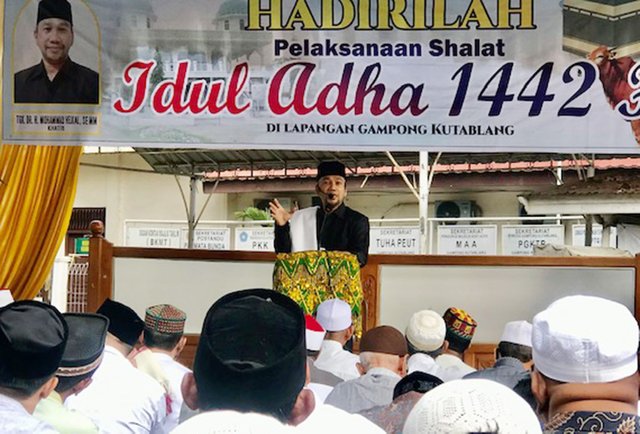 ---
Inspirasi dari Sifat Tawakal Keluarga Nabi Ibrahim
Tiga dosen Fakultas Ekonomi dan Bisnis Universitas Malikussaleh, menjadi khatib salat Idul Adha 1442 H pada 20 Juli 2021. Ketiganya mengajak umat Islam meneladani keihklasan berkurban Nabi Ibrahim dan kepatuhan Nabi Ismail kepada orang tua yang menjadi salah satu kisah inspiratif dalam Al Quran.
Ketiga dosen Fakultas Ekonomi dan Bisnis yang menjadi khatib adalah Ustaz Nazli Hasan Lc di Masjid Jamik, Ustaz H Dr Mohd Heikal di Kutablang, serta Dr Damanhur Abbas di Masjid Taqwa Muhammadiyah Lhokseumawe.
Menjadi khatib di lapangan depan Masjid Baitul Huda, Kutablang, Ustaz Heikal mengingatkan bahwa kisah pengorbanan Nabi Ibrahim dan Nabi Ismail sering diulang setiap Idul Adha agar menjadi iktibar bagi semua umat, apalagi di tengah situasi sulit sekarang ini yang menuntut kepedulian umat terhadap orang yang tertimpa kesulitan.
Ustaz Heikal mengingatkan bahwa hewan kurban bukan semata sebagai kendaraan di jalan Allah, tetapi juga sebagai bentuk kepedulian sosial kita terhadap sesama yang saat ini sangat dibutuhkan. "Filosofinya, yang disembelih bukan leher binatang, tetapi sifat-sifat kebinatangan dalam diri kita," ujarnya.
Tentang kepatuhan Nabi Ismalil terhadap ayahnya Nabi Ibrahim, Heikal menyebutkan sebagai bentuk kepatuhan yang harus menjadi teladan bagi semua karena meski meninggalkan keluarganya dalam waktu lama di tengah gurun tandus, Nabi Ismail tetap patuh kepada ayahnya dalam menjalankan perintah Allah.
Ustaz Heikal juga menyinggung masalah jender dalam sejarah Nabi Ibrahim yang belum memiliki anak setelah 86 tahun menikah dengan Siti Sarah. Kemudian Siti Sarah merestui pernikahan Nabi Ibrahim dengan Siti Hajar.
"Tapi ketika Nabi Ibrahim memiliki anak dari Siti Hajar, Siti Sarah mulai cemburu. Begitulah perempuan, cemburu adalah adalah normal dan wajar. Bahkan kalau ada perempuan yang tidak cemburu sama sekali, patut dipertanyakan," kata Heikal.
Menyangkut ibadah haji yang sudah dua tahun tidak bisa terlaksana akibat pandemi Covid-19, Heikal mengingatkan kisah Ibnu Mubarak yang bermimpi di Masjidil Haram tentang percakapan dua malaikat. Dalam percakapan itu, disebutkan bahwa dari sekitar 700 ribu jamaah haji, tidak ada yang diterima ibadahnya.
Namun karena ibadah seorang tukang sol sepatu, Al-Muwafaq yang tidak bisa berangkat haji, seluruh ibadah Jemaah haji diterima Allah. Ibnu Mubarak kemudian menjumpai Al-Muwafaq dan mengetahui keikhklasan tukang sol sepatu tersebut yang rela tidak naik haji karena membantu fakir miskin.
Masalah kepatuhan anak kepada orang tua juga diingatkan Ustaz Damanhur Abbas ketika menjadi khatib dalam salat Idul Adha di halaman Masjid Taqwa Muhammadiyah Lhokseumawe. Menurut Damanhur, kisah kepatuhan Nabi Ismail kepada ayahanda Nabi Ibrahim harus menjadi teladan bagi umat manusia. "Berbuat baiklah kepada orang tua kita, walaupun mereka sudah tiada," ujar dosen Ekonomi Syariah tersebut.
Di Masjid Jamik, Ustaz Nazli Hasan Lc mengingatkan jamaah agar tidak bersedih hati ketika mendapat cobaan Allah dalam bentuk apa pun. "Kalau diberi nikmat bersyukurlah. Kalau diberikan cobaan, bersabarlah," pesan Ustaz Nazli.
Ia mengajak Jemaah untuk meneladani keluarga Nabi Ibrahim yang sangat tawakal kepada Allah dalam cobaan yang berat sepanjang perjalanan hidupnya. "Dalam Al Quran hanya dua nabi yang Allah katakan menjadi suri teladan dan Allah lekatkan bersama Nabi Muhammad dalam salawat, yakni Nabi Ibrahim dan Nabi Muhammad," kata Ustaz Nazli. [ayi]
---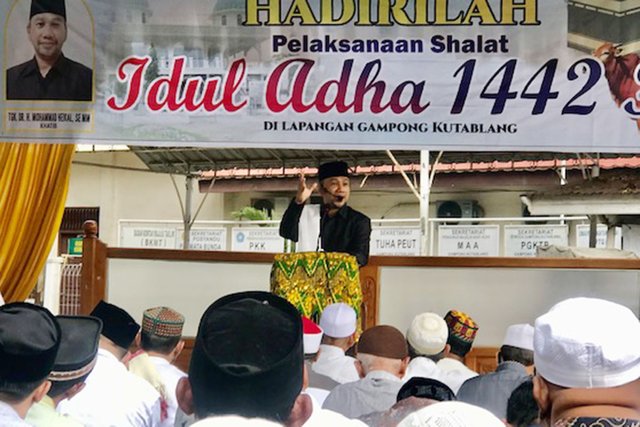 ---