당신은 나보다 부유할 수 있으나, 자유로울 수 없다
You may be richer than me, but you will never be free like me

안녕하세요.
Capitalism에서 Humanism을 찾는 여행자,
@rbaggo 입니다.
이웃분들 다들 잘 지내고 계셨죠?
코로나 때문에 많은 어려움이 생기긴 했지만, 저는 아직도 폴란드에서 잘 지내고 있습니다. 최근 몸에 생긴 건강상 문제 때문에 일하는 시간을 줄이고, 여유시간에 스팀잇에 글을 쓰기 시작했는데요.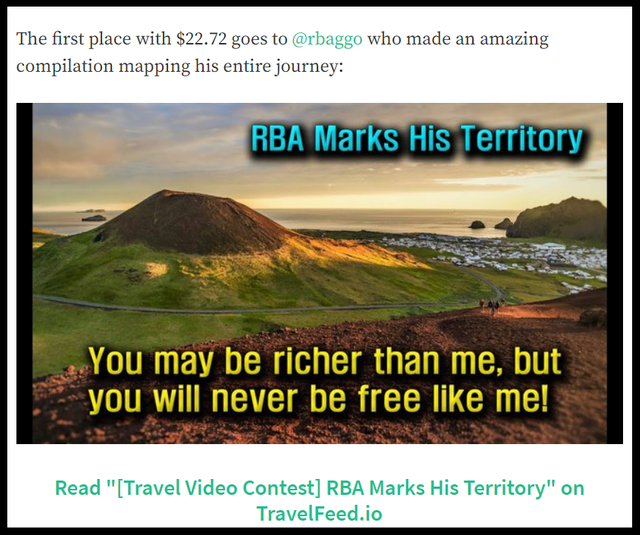 Winner announcement: My best Youtube travel video contest - 100$ prize pool!
몇 달전, 하이브 쪽의 여행 관련 커뮤니티인 Travel Feed에서 주최한 여행 영상 컨테스트에서 1등을 했다며 큰 금액은 아니지만 상금으로 22 .72 하이브 달러가 들어와있네요.ㅎㅎ
하이브나 하이브달러도 곧 펌핑이 시작되면 하이브달러가 스팀달러처럼 큰 상승을 보일 수도 있다는 생각이 들긴 했지만 하이브달러와 하이브와의 비율이 거의 10:1 수준이어서 스팀으로 가져와 원하는 토큰들을 구매하기로 했어요.
스팀은 트론과의 연계가 있다면, 하이브 쪽도 어쨋든 전체 코인마켓의 랠리를 따라가며 상승을 할 것 같다고 예상은 되는데 어떠한 이슈를 내놓을지 궁금해지네요.
오랜만에 스팀잇에 돌아오니 무엇을 먼저 해야할 지 아직 잘 모르지만 커뮤니티와 이웃분들 방문하면서 하나씩 공부하면서 배우겠습니다.
날씨가 추워지는 겨울인데, 모두 건강 유의하시고 좋은 하루 되세요!